Benefits and Requirements
Read the sections of content below to learn more about the benefits and requirements of partnering with Star Fleet Trucking. Visit our independent contractor payment page to learn more about our compensation, perks and benefits.
The fastest growing division and the largest truck fleet is the recreational vehicle group. If you're an independent contractor seeking camper hauling or 5th wheel RV transport jobs, this division would make an excellent introduction to the industry. This segment delivers travel trailers and 5th wheels to retailers across America and Canada. This group is made up of 1-ton pickup truck owner/operators for the tow-behind units. As an owner-operator, you will need to provide a properly registered and inspected 1-ton diesel pickup truck with an 8-foot bed, ten years or newer. To qualify for our RV trailer hauling jobs, the following equipment is necessary:
Class IV or V receiver hitch rated at 10,000+ lbs.
Weight distribution hitch rated 1,000 lbs. with 2 5/16″ ball (positioned 20″ – 22″ from the ground) In addition, a 2" ball needs to be on a minimum 6,000 lb. rated ball mount.
5th wheel rated for at least 18,000 pounds. No Slider Plates!
Mud flaps 6″ from ground, fully covering wheel wells
Fuel tank (direct feed) & toolboxes can be no more than 2″ above the top of the bed rails Fuel tanks must have a DOT certified sticker and the capacity clearly labeled.
Electric brake control
Bargman 7-way electric trailer plugs at rear bumper and in truck bed
Hitch padlock
RV mirrors
Fire extinguisher, set of 3 safety triangles or flares, and assorted fuses for truck and trailer
Bottle jack or another jack suitable to change trailer tire
Cab marker lights
12-volt marine battery with case & strap for breakaway use
4-way Lug Wrench & torque wrench (3/4″, 13/16″, 7/8″)
Chain with hooks suitable to pull up axle & attach to frame if needed
Place to hook a breakaway cable to truck
Minimum 2 ratchet straps and 3 tire chains or cables
Truck to be home state plated at 26,000 pounds
Annual legalization fee
Trucks over 10 years old must be inspected & approved
With four terminals strategically located in southern Florida, northern Indiana, eastern Pennsylvania, and Texas, Star Fleet can service leading manufactured housing markets in  Florida, Georgia, Indiana, Kansas, Kentucky, New York, North Carolina, Pennsylvania, Tennessee and Texas. These houses are transported with heavy duty Semi-trucks from the factory to the retailer or customer's site. Due to the over-sized dimensions of the houses they require one or two escort vehicles depending on the state. Most deliveries from Indiana are within 700 miles, but some deliveries can be over 1100 miles. The average delivery from Pennsylvania and North Carolina is within 300 miles.
If you'd like to drive a manufactured house toter for Star Fleet Trucking, there are several manufactured housing requirements you'll need to meet. As an owner-operator, you will need to provide:
A properly registered and inspected single or tandem drive Toter truck

A two, four- or six-way ball hitch and pintle hitch.

Warning lights and hook up for house.

Spare tire rack.

Extended mirrors.

Fire extinguisher and safety triangles.

Safety Chains.

Minimum 

12-gauge

 wire of at least 100'.

 

Less than $21 per month legalization fee 
There are unique requirements for manufactured housing transport, but if you can meet these specifications, we'd be happy to consider you for our team. Learn more about our team, or submit an application today by contacting Star Fleet Trucking today to get started.
As an owner-operator, you will need to provide:
A semi-tractor which must be 15 years or newer.
A lowboy style trailer with 48 – 53-feet of deck. Trailer must be able to take a full 53-foot load.
Ramp/Lowboy trailer must be capable of carrying a 102-inch-wide X a 126(10.5ft) inch high unit.

Trailer must have a center rail.

Minimum 9000-pound winch.
5 or 6 ball stands for both 2 inch and 2 5/16-inch hitch ball.

10 – 12 tie-down straps. (Wheel bonnets or wheel straps preferred)

Tow Mirrors.

Safety chains.

Fire Extinguisher and Safety Triangles.

Annual legalization fee
Strategically located near the heart of the RV manufacturing industry in Indiana, Star Fleet Trucking provides professional motorhome transport.
To make sure all our independent contractors have everything they need for the job, we have a few requirements for our drive-away operators. As an Independent contractor seeking drive away motorhome transport jobs in Indiana, you will need to provide:
Tow vehicle must be presentable and have a curb weight of less than 3,800 lbs

If the vehicle weight is over 3,500 lbs., it CAN NOT be towed behind a unit that is 24 feet long or less
If the vehicle weight is 3,000 lbs. – 3,800 lbs., you will need to purchase a braking system such as Ready brake or
Brake Buddy. FMCSR requires all towed vehicles of 3,000 lbs. or more to have a braking system.
Star Fleet requires vehicles that can be towed on all 4 wheels (dinghy style)
No Tow Dollies allowed

Tow bar suitable for towed weight
Annual legalization fee
Chains or cables (minimum of two 6' lengths, must be rated for minimum weight of towed vehicle)
Drop receiver (with 2" ball if needed)
Pins or locks for tow bar, hitch, & drop receiver
Set of 3 triangles and/or 6 fuses
Assorted fuses for electrical on both vehicles
If you meet these drive-away requirements and would be interested in a drive-away RV transport job, fill out an application for Star Fleet Trucking today to get started. Our team is always looking for skilled drivers, so find out how you can join the fleet today.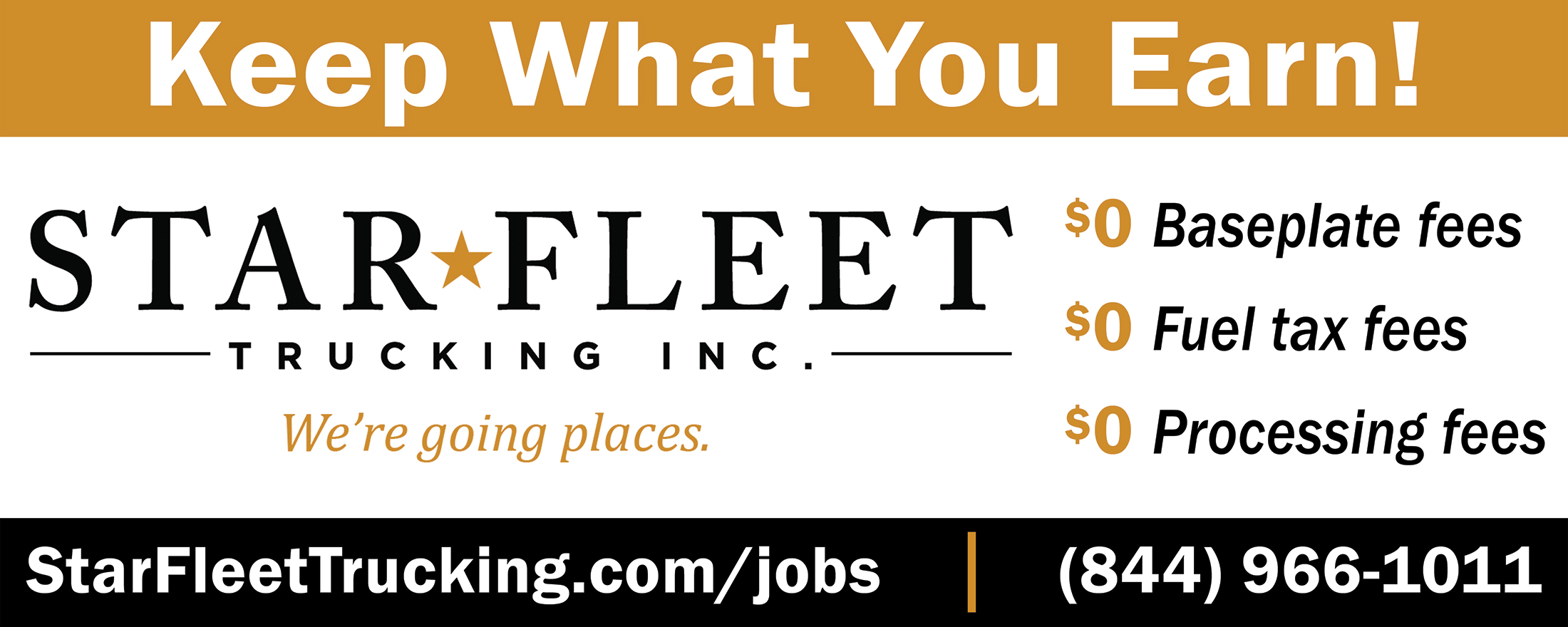 Benefits
Star Fleet believes its most valuable asset is our fleet of independent hauling contractors. We offer competitive benefits such as:
Per-Trip Compensation

Single Point of Contact

Flexible Dispatch

Quick Driver Pay (Up to Three Times Daily)

Upfront Advances

Least than $21 mo. legal fees

$0 Baseplate fees

$0 Processing fees

$0 Fuel tax fees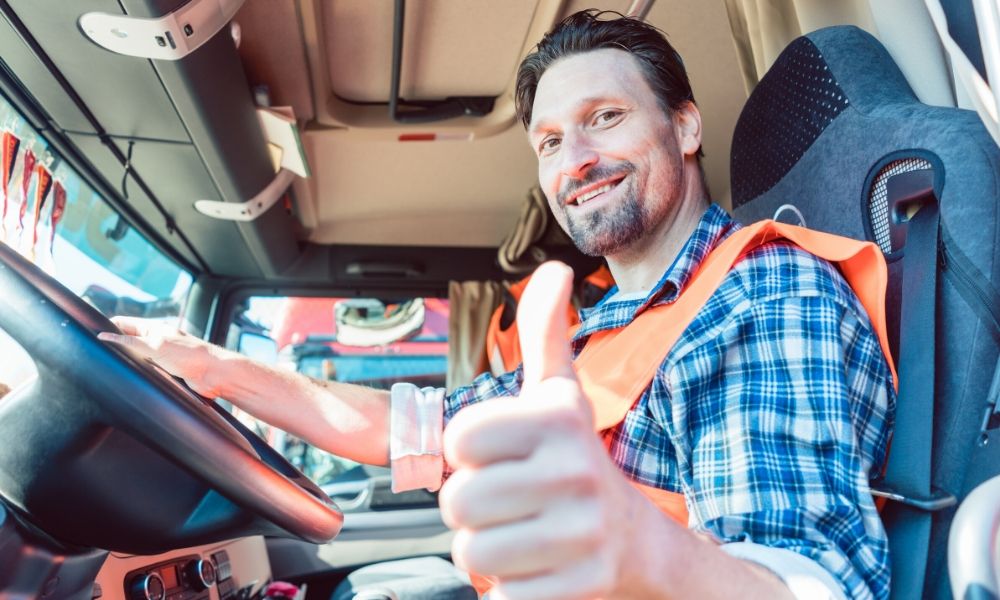 RV transport job pay is wholly dependent on your availability to make trips. Our independent contractors get paid 50% up front and receive the other 50% upon completion of the delivery. A driver can drive as often as they would like, but they must operate within DOT safety guidelines. Our per mile rate and a driver's yearly miles traveled depend on fuel prices and driver willingness to complete jobs. If you're interested in learning more about what RV driving jobs pay would look like for you, contact our recruiting office at (877-561-7168) for information.
Driver Requirements
Star Fleet works diligently to provide a quality service that will meet or exceed our customers' expectations. For independent contractors seeking 5th wheel RV transport, camper transport, motorhome hauling, or other drive away jobs in Indiana, you will be responsible for the following:
Safety – This is number one. Independent contractors must adhere to the rules of the road. Additionally, each RV should be delivered in the same condition as when it left the manufacturer.
Promptness – Deliveries should arrive at their destination at the agreed upon time.
Professionalism – Independent contractors should always present themselves in a professional and courteous manner to manufacturers and retailers.
Availability – While there is no forced dispatch, independent contractors should make themselves available for dispatch as consistently as possible for the most potential earnings and Star Fleet's reputation for dependability.
Federal Requirements – Independent contractors must comply with all requirements related to vehicle inspections, driver physicals, drug testing, driver logging, licensing, registration, and insurance. Any commercial vehicles with a gross combination weight rating (GVWR) of 26,001 pounds or more will require a valid Class A Commercial Driver's License. Independent contractors who hold a valid Class A CDL can operate the following commercial vehicles:
Tractor-trailers

Truck and trailer combinations

Tank vehicles

Livestock carriers

Flatbeds
Passport – Star Fleet transports some shipments into Canada. Independent hauling contractors traveling into Canada will be required to have a valid passport. However, United States-domiciled commercial drivers are not required to attain a Canadian CDL for transport in Canada. This is because the United States and Canada mutually recognize the similarity of testing and issuance of each other's commercial driver's licenses.
Other Requirements:
23 years of age

Valid driver's license. CDL Class A license is preferred for the RV division

A Class A Commercial Driver's License is preferred for the RV division.
A Class A Commercial Driver's License is required for rail and mobile home division.

No more than 3 moving violations in the last 3 years or no more than 2 moving violations in the last year.

No more than 2 preventable accidents in the last 3 years or no more than 1 preventable accidents in any one-year period.

No record of driving under the influence of drugs or alcohol.

No indication of disregard for public safety. No habitual offender convictions.

No drug or alcohol test failures or refusals.

No pre-employment drug test failures.

These documents must be made available before approval:

Driver's license

Social security card

Valid DOT physical (long form and certificate)

Title and registration for equipment

Valid DOT inspection (with paid receipt) within last six months

Proof of commercial liability insurance